Lately I've been thinking about my last vacation, two weeks spent in San Francisco and Seattle this past November.
One day, whilst riding through the city of San Francisco on my bike, I decided to head to the Palace of Fine Arts and I was so amazed: not only because of the surrounding garden and the nearby lagoon but I also had the feeling that every women in San Fran was getting married! You can't imagine how beautiful it was, so many different and glamourous gowns from completely different cultures, all the happiness in the air. It really lit the city up.
It got me thinking and I've started looking for my perfect wedding gown, which would be a Vera Wang dress. Her dresses are amazing and no other designer can mix a modern style with elegance the way she does! While researching for this post I found out that you don't need to spend a hell lot of money for a Vera Wang dress – at least, if you are in the United States (If not, buy it online! 😉 ).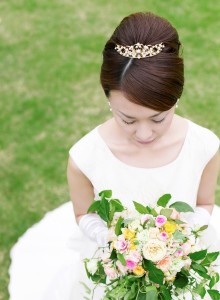 The collection WHITE by Very Wang has prices you can only dream of, they start at about $250 and they go up to
$1800 (Fantastic prices, isn't it?). They are low-price but not cheap, they look amazing to me!
To be fair, I have not tried the new WHITE collection yet (I sure take a look at them the next time in the States), so I can't share any thoughs on quality – but for what I've read, the quality is really good. If you have ever seen the dresses, please write a comment and let us know your thoughts on that, if you haven't, please share with us something about your perfect wedding dress!
Love,