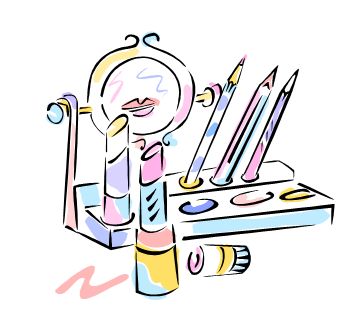 Hello everybody,
Belive it or not, I am not the kind of girl who only goes out wearing make-up. I do love it and have fun trying new things but some days lipstick and mascara is all I need (you know what I mean). When I am in the mood for make-up, then I want it to look perfect, natural and classy.
Even though make-up is a very popular thing, some of us still have some question on how to start a look – here you will find the 9 steps for a great look:
Step 1: Before applying make-up you gotta clean your skin. Wash your face well, apply a moisturizer with SPF and give your skin some time to absorb the lotion.
Step 2: Now it is time for a primer (neck and face): it will prepare your skin for a foundation and conceler ensuring they last longer (it will also minimize pore visibility!).
Step 3: A concealer will cover any blemish on your skin. Dab it over problem areas and always choose a conceler that is slightly lighter than your skin tone
Step 4: Choose a foundation that matches your skin colour and apply it in small batches on you forehad, cheecks and chin – blend it to cover your entire face. Make sure to get a flawless finish.
Step 5: Define your face with highlighter and brozer. The highlighter should be lighter and the brozer should be a bit darker than your skin tone. Apply the brozer along your jawline and the highlighter around your cheekbone – blend it to keep a natural look.
Step 6: Apply a blush to give a healthy and pleasant glow. Smilling will help you to locate the apples of your cheek, apply the blush all the way back to your hairline.
Step 7: Use the eyebrown pencil (slightly lighter than the colour of your hair) to follow the natural line of your brown.
Step 8: Shadow and liner will give depth and definition to your eyes. Choose 3 shades of eye shadow and start with the lightest colour under your eyebrown and than the darkest colour over your lid. Blend them with the middle colour to avoid obvious lines. Apply the eye liner along the lid above your lashes. Use the mascara to give your lashes a thick look.
Step 9: Apply the lipstick of your choice and than line yor lips, finishing with a layer of gloss.
I hope you enjoyed reading this post and have fun using the basics to create your own look!
Love,