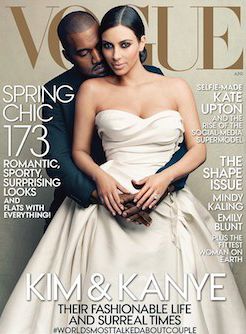 Kim Kardashian's dream came true when she was invited -together with her now husband, Kanye West- to be at the cover of Vogue Magazine. However, now she may not be very happy to know that the reason why she was invited wasn't exactly to crown her "style" and "elegance".
Anna Wintour modernized Vogue and opened its doors for stars. But million of Vogue readers were not amused with Kim Kardashian at the cover of the most important and well-known style magazin. Mrs. Wintour defended her choice and now she explains her reasons for doing so.
Well, I myself wan't really impressed by this cover. I love Vogue and I have always enjoyed the magazine but this time it felt like it wasn't about style, elegance – it was all about selling issues. Don't get me wrong, I do think that Kim K. has her awesome moments (who wouldn't have?! If you have the buget to cover assistens, stylists, etc you have it all) – you can buy fashion but you can't buy class.. and  her actions and choices just make clear that she has no sense of class whatsoever: She makes it all about her body. Anyways, she is Kim Kardashian, "any press is also good press" fits to her.
Putting Kimye on the cover of Vogue was a very controversial choice and Anna Wintour knew that. Now, seven months later, she talked openly about it in a conversation series at the Metropolitan Museum with former CNN journalist Alina Cho:
"The first celebrity that I put on the cover of Vogue was Madonna, and that was considered completely controversial at that time, too," she said.

"Now she's part of the establishment. I think if we just remain deeply tasteful and just put deeply tasteful people on the cover, it would be a rather boring magazine! Nobody would talk about us. It's very important that people do talk about us."
Vogue creative director Grace Coddington in an interview with the Financial Times once said: "There was a wedding story to be done,. And Anna probably had them in mind, because she had been seeing a lot of Kanye, so she said, 'Maybe we should shoot it on lookalikes.' And I thought, 'Why not just do it on the real thing? This is Vogue."
So, give the people what the people want…