Last friday when my boyfriend brought an Oculus Rift home I wasn't to keen on trying it on. I mean, it looked huge to me and I was afraid I could let it fall and it would break into 1000 pieces cause the material didn't look sturdy enough. Also, I could not imagine that thing would really work with me… boy, I couldn't be more wrong!
If you have never heard about Oculus Rift, it is actually a virtual reality head-mounted display that was developed by Oculus VR and later sold to Facebook.  The first time I heard about Oculus was past february when Topshop announced a virtual reality catwalk show. YES! To celebrate Autumn/Winter 2014 London Fashion Week, this retailer allowed fans to experience a front-row seat at a fashion show. And many fashion fans had the chance to be VIP in a (virtual) Fashion Show with 360-degree view.
The live show and backstage was filmed by HD cameras and then streamed live to the virtual reality headsets in the Topshop store. Also, with their Oculus Rift on they could watch celebrities sitting next to them – how awesome!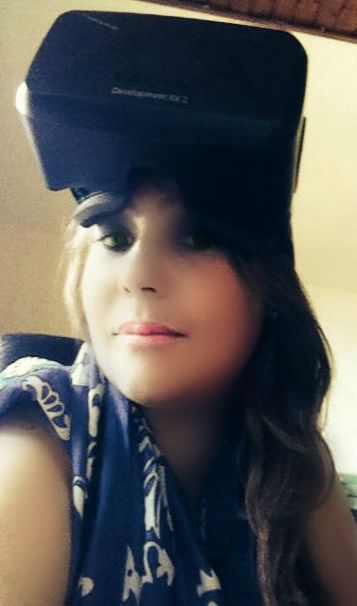 Well, back to my experience: Yesterday I was ready to give it a shot and my first test was on something I love doing: ridding a roller coaster! It was cool but when I got to the swing boat… oh yeah, they had me right there! I sat there and had only that head-mounted display on but I felt all the forces that anyone would usually feel going through the real experience: I felt the pressure that throw backwards and forward, at first I thought I could control myself but I really had to scream and laugh… crazy awesome.
Can you imagine how awesome it would be if we could just be at home and watch a fashion show stream in New York, London, Paris and Milan or even better – if you could just put your Oculus Rift on and try on outfits you have in your closet and then decide which one you would want to wear, without having to go through dressing and undressing? I hope one day we get there!
What I can tell you for now is: I really want to have this awesome thing… I love black but could I have it in pink, please?!