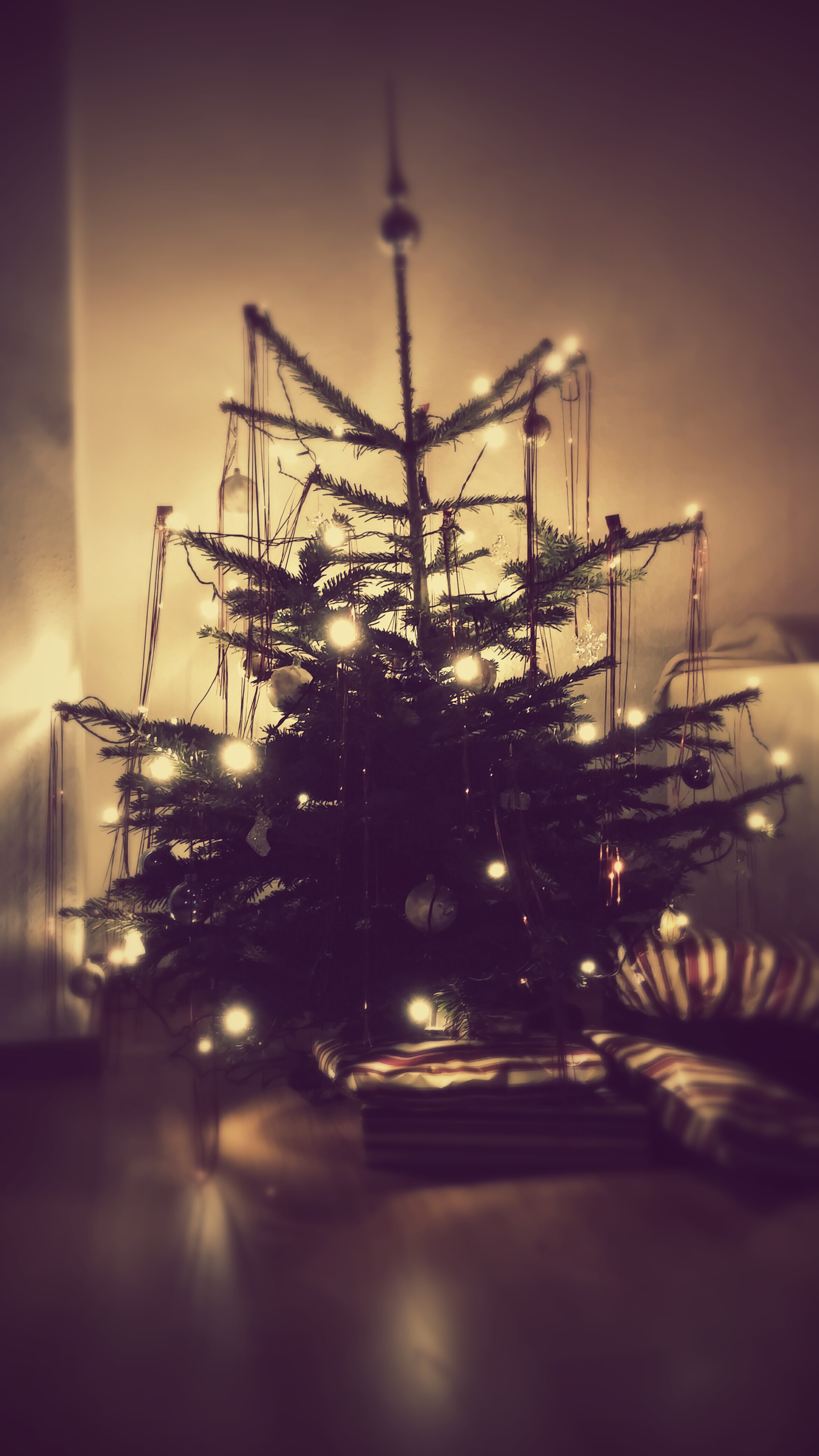 Christmas is all around us… but right now it feels like a nightmare to me: Nine sleeps till Christmas and I am still struggling with Christmas shopping. I am sure that I am not the only one but I actually should have been done by November 17th.
It should have been my most relaxing Christmas shopping ever; I had decided to buy Christmas presents online and for that I chose my favourite online store: YOOX.com! "What could go wrong?!", so I thought… But I couldn't be more wrong!
(UPDATE: CHECK OUT HOW THIS PROBLEM GOT SOLVED!)
Every year I take the last days of october to start brainstorming what Christmas present to get my people. I had a good budget, about 1000 Euros (~$1250), and also a lot of ideas in my head. On the 2nd of November I went to YOOX and checked it out in the hope of finding nice presents for my family (who, just like me, love fancy things!).
My love for YOOX started 2013 – if you have never heard about it, it is a mail order retailer from Bologna, which buy up unsold fashion items from previous seasons from many famous designers. If you don't mind buying products from previous seasons you can get killer deals for brands such as Stella McCartney, Dolce&Gabbana, Gucci, Armani, Valentino, Balmain… And I go crazy!
Let's get back to my YOOX Christmas Nightmare: On the 2nd of November I ordered two packages with clothes, shoes and accessories. Everything went smooth and the products were great! Then I realised that I had forgotten to buy two presents and by the 17th of November I had done my last order:  a MARC by Marc Jacobs Moccasin and Stella McCartney sandals.
Less than a week later I had my last package in my hands! When I opened the package, I realised that the shoes were fine but there were NO DUST BAGS. Well some people can think it is not a big deal but actually it is: dust bags shade the shoes from light, which can harm  the leather; they also keeps your shoes free from dust and lessen the chances of you getting scratching on your shoes from other objects in your closet.
I got in touch with YOOX CCare and told them that I would really appreciate it if they sent me the missing dust bags, the answer I got – 15 days later!!!!!!!! – was (Here in german, see translation below!):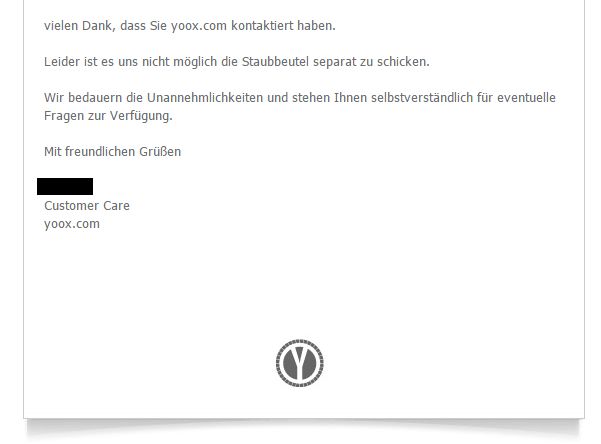 "Thank you for contacting yoox.com.
Unfortunately it is not possible to send you the dust bag separately.
We apologize for the inconvenience and we are of course at your disposal for any questions.
Best Regards,
—–"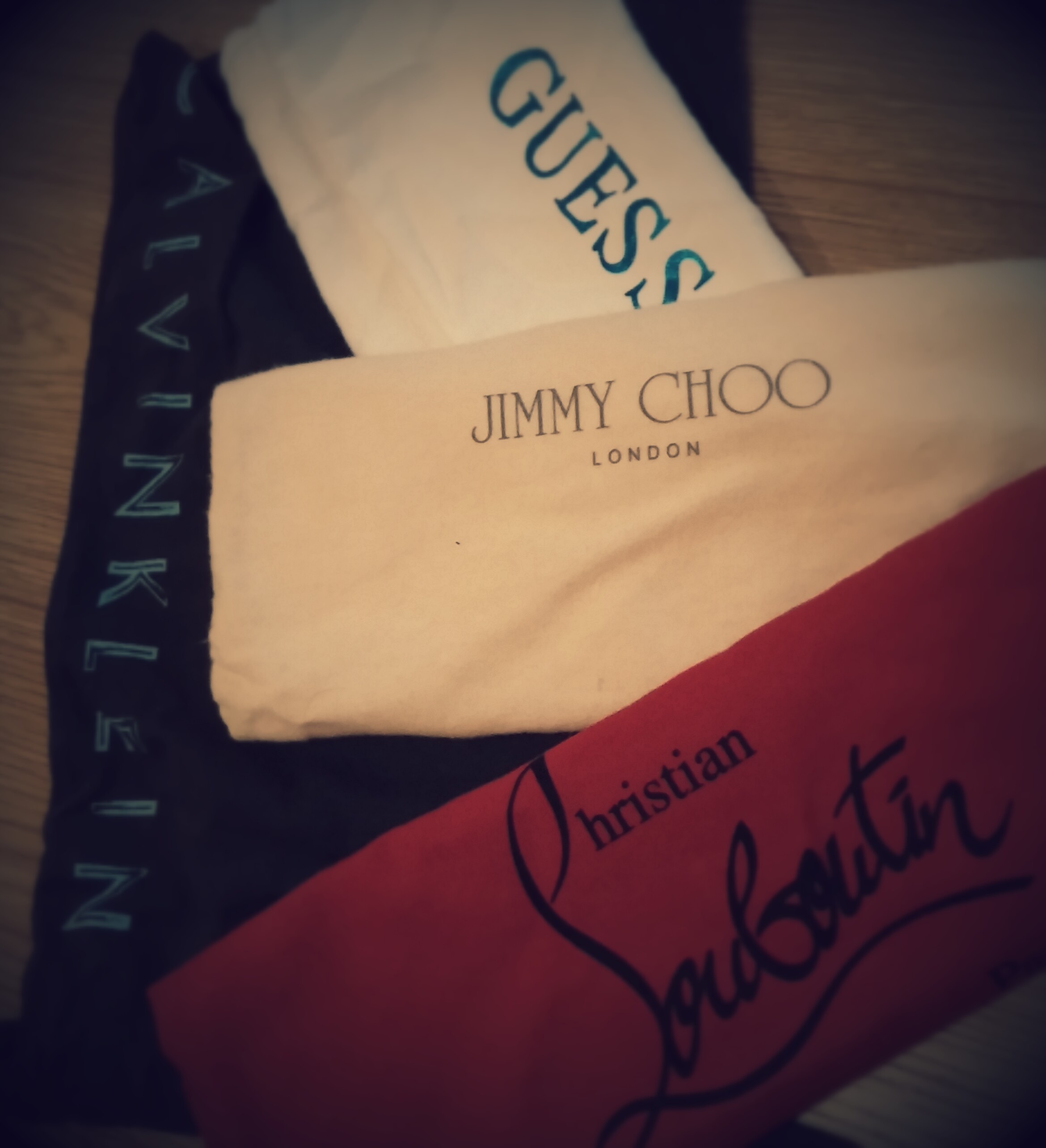 Well, the dust bags are a part of the products – not only you pay for it but it differs high quality brands from low quality brands cause when you spend a lot of money on shoes you also want to protect them against dust, scratching, etc.
The answer I got from YOOX for my complaint was a pretty standard thing, they didn't try to find a way to solve my problem AT ALL and it really upsets me. Of course, I sent them an answer to this email, it's been a week and no answer! I don't know if I will still buy things there… the past weeks have been nerv-wracking!
Now, here I am, one week before Christmas and no solution! Thanks to twitter, YOOX.com got in touch with me and I hope they solve my problem (JUST SEND ME THE DUST BAGS!) so we can have our usual merry Christmas!
PS.: I will keep you posted on that, I'd be glad to share a good new from YOOX CCare but first they will have to do their job!
Love

UPDATES: This morning I got a call from a very nice gentleman from YOOX CCare Italy. He assured me that, although the warehousers had a lot of extra work to do with christmas shopping, they would still try to find new dust bags for me – he couldn't promisse anything but they would do the effort.
Some minutes ago, the same nice gentleman called me again to give the good news: YES! They found two dust bags. I am so happy, christmas can't come soon enough!
Look what has just arrived: