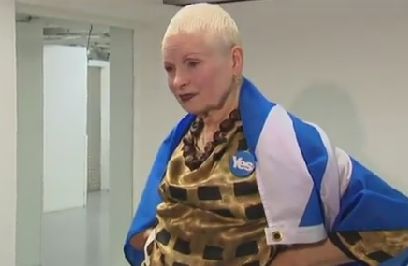 The 3rd day of the London Fashion Week was packed with great fashion shows from Temperley and Topshop Unique to Paul Smith and Pringle of Scotland.
Also Vivienne Westwood, who pinned "YES" bandages on her models showing her support for the Scottish independence, presented her new collection but her fashion wasn't the only thing that she wanted to talk about!
British fashion's grande dame, Vivienne Westwood is known for drawing the crowd's attention to political and social issues. This time it wasn't different, she used her runway to help the Scottish independence campaign.
Westwood not only proudly wore a "Yes" bandage, she also placed a statement on every guest's seat:
"I am so excited, fingers crossed they will win. Because, if they do, it could be the turning point towards a better world. They could lead by example."
And backstage she had strong words about her country, according to Daily Mail:
"I hate England. I like Scotland because somehow I think they are better than we are. They are more democratic."
She denounced the "No" supportes as "frightened and stupid".
https://www.youtube.com/watch?v=XJRB_bM8I2I
Check out the other shows: