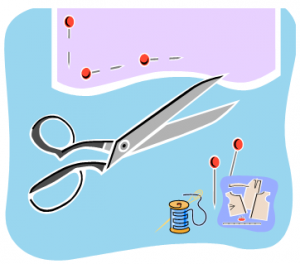 Good Morning Ladies!
Fashion is not only for the rich and famous: thanks to style bloggers sharing awesome DIY clothing projects that will make you look as if you just walked off the catwalk.
It is easy – and budget friendly – to craft  stylish clothing, you just need to gather a few items like lace, stampers, old ornaments you don't need anymore, some colours… and the piece of old clothing or shoes you want to change completly.
While I'm still gathering ideas to my own DIY column, I've decided to share with you some of my fellow bloggers awesome projects that you will L-U-V!  
Let's start with a "Do your own Burberry Trible High heels" All you will need are two different colours of wooden beads, black string and an old pair of heels:
First of all, you will have to strung the beads – for each shoe, you will need two 15cm strings of beads of each colour you have chosen. Tie two of each colour together -as you see above- and secure them tying the string together at the back of the shoes. An that is it! You will have gorgeous new shoes 🙂 Now, let´s check out this DIY Urban outfitters shorts: You will need a white shorts, lace trim, sewing pins, needles and thread.
Start by pinning rows of lace onto the shorts covering back and front – as you see at the photo above. Handstich – if you don't have a sewing machine – the layers into place (if your shorts has a zipper you will have to wrap the lace under the flap. Et voilà! My favourite of the week is this dress. I love the black colour but I will try it in a pastel shade though :
So, what is your favourite?
Love,